Thursday, June 01, 2006
Wednesday, May 24, 2006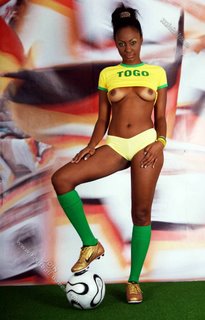 The World-Cup Is Coming, Let's Celebrate!
No Galleries For This Post, Just A Combination Of Two Of My Favourite Things;
Sexy Babes And The Beautiful Game; Football.
Behold!
Football Babes
!!
You Know...I Quite Fancy England But Then Again...
Poland Looks A Bit Tasty Along With Ukraine And Spain; Australia Look Fair Dinkum. Tunisa And France Have Got A Lot That Is Great Up-Front. As Well As Japan And Paraguay Having All That Is Required In The Box and Not Forgetting The African Nations Who Have Exquisite Ball-Control Second Only To The South Americans!
"It's Coming Home
Football's Coming Home!"